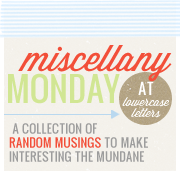 I'm joining in on "Miscellany Monday"!
Grab the button, write random, and link up over
here
.
1. It has been SO cold here lately (degrees in the single digits).
I'm desperately dreaming of a southern beach vacation right about now...


2. Brett & I were in the mood to go out to breakfast this weekend,
so we explored the area around our house
and found this adorable little cafe:
Our Little Secret Cafe
Cheap & the food is delicious!



3. This weekend I became an Aunt (again)!
My brother-in-law's girlfriend had a sweet baby boy on Saturday.
Meet Andrew:



And this is his older brother, Bradley
(who I can't get enough of!):



4. Fun fact I learned this weekend...
Brett (my husband) and Lee (my brother) are really great jumpers!
I think if they ever formed a band, this would be a great album cover:



5. I say it all the time, but that's because it's true:
My husband is an AMAZING cook!
We had homemade Thai curry for dinner last night.
Drool:



I think that's enough miscellany ramblings for one day.
Hope everyone's week is off to a great start!*